Archive for the 'paperless' Category
A new version of Coaxion is in the app store with a brand new feature: broadcast meeting documents.  The new broadcast meeting feature allows presenters to instantly and easily distribute documents to an audience that can navigate and read them on their iPads.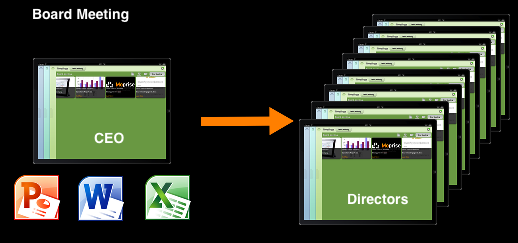 Broadcasting documents is effortless. The presenter taps the broadcast button to share the documents and recipients select from a list of meeting names to receive the documents on their iPads.  The document exchange happens over the internet and your WiFi network meaning documents can be added to the meeting and shared with the audience in real time. There is no need to exchange email addresses with your audience.There is no need to tether iPads to iTunes to receive documents. You save tons of time versus printing, sending documents in email, or even asking people to manually synchronize with storage systems like Dropbox.
Example Use Cases
A teacher distributes a set of reading assignments to a class of students using iPad devices with Coaxion.
A corporate manager uses the broadcast meeting feature to distribute a packet of training materials to their employees during a team meeting.
A company CEO securely and wirelessly distributes a set of documents to their board members during a monthly board meeting.
Steps to Broadcast a Meeting

The two main steps are for the presenter to create a collection of documents (ie a meeting) and broadcast it. The audience simply has to join the broadcasted meeting by selecting the name on their iPad. The following paragraphs will step you thru the operation in greater detail.
The Presenter:
Create a new meeting and select any documents that you want to broadcast to the meeting participants: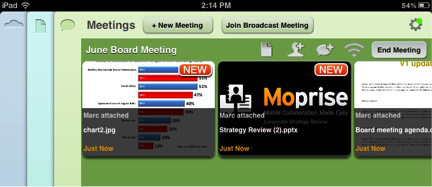 Tap the broadcast meeting button to start sharing the documents with meeting participants:

The meeting documents will now be broadcast wirelessly and you will see a meeting code that you can distribute to any meeting participants so they can view the meeting documents on their device. You can dismiss this dialog box and continue interacting with Coaxion. The meeting continues to be broadcast.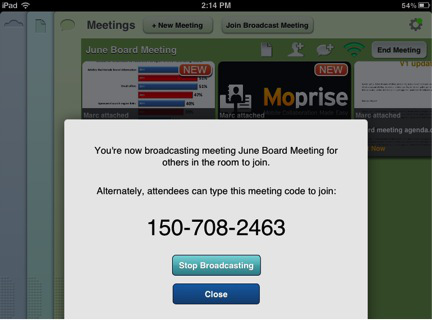 The Audience:
Meeting participants can now launch Coaxion and tap the Join Broadcast Meeting button to see a list of meetings currently being broadcast: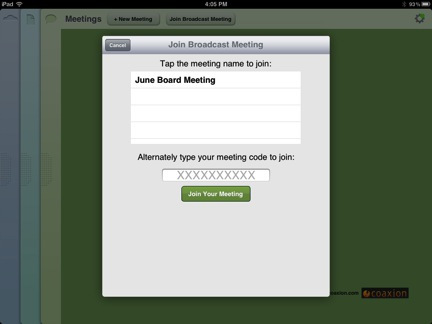 If you are on the same WiFi network, audience members can select the meeting name (e.g. June Board Meeting) to join the meeting. Alternatively, the audience members can enter the meeting code manually to join the meeting, which allows remote participants to access the meeting documents.
Once audience members have joined the meeting, they instantly receive the complete set of meeting documents via broadcast:

To read one of the meeting documents, meeting participants simply tap on the document name to display the selected document: