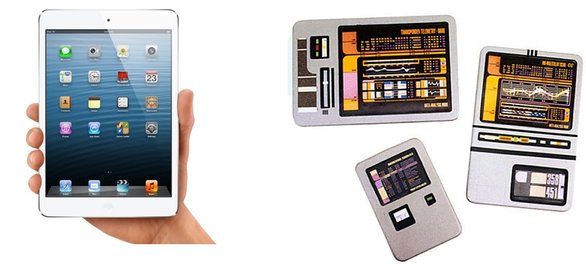 The iPad Mini is here and, like all great technology, it rivals tablets we've seen on Star Trek in dimensions, weight, and functionality!  Coaxion users will be happy to know Coaxion runs fantastically on the device and allows you to stay up to date with meeting documents and colleagues.  The $329 price point for the WiFi device is higher than a comparable Kindle Fire HD at $199 but for the enterprise, you are buying into the iPad ecosystem - your enterprise tools, apps, and management systems will run fine on the iPad and iPad mini. 
The iPad Mini fits nicely into a jacket pocket - rain, winter, or executive jacket. Actually, my phone, tablet, and charging cables all fit into a Seattle winter jacket pocket, eliminating the need for a laptop bag and all its bulk.  The WiFi only iPad mini easily connects to a hotspot from my iphone, eliminating the need for multiple data plans and cables between the devices.
Multitasking takes on new dimensions when performing major tasks on the iPad Mini and using the iPhone for quick reference of contacts, other apps, or the web.  iCloud makes it easy to get notes, URLs, and files synchronized between the two devices for incorporation into the main task on your iPad Mini. Multitasking on a phone & tablet allows us to do things that are hard even on big screen desktops.  For instance, I was easily able to bring up a complex bank web form on the iPad mini while using the phone to look up relevant data from other websites, files, contact lists, and email to make an international wire transfer. All those look-ups and app navigations would have been difficult on a laptop but the single task nature of the phone and automatic synchronization of notes between devices made this easy. Multi-monitor desktops give way to multiple pocketable devices.